Get this free chicken quilt pattern now and make a fun quilt with a vintage vibe. No special skills or techniques required – a perfect quilt for beginners!
I designed "Flock Party" for the beautiful Poppy Prairie Collection by Rae Ritchie for Dear Stella Fabrics. The quilt measures 57-1/2" x 70-1/2" and each block finishes at 10". This quilt is ideal to feature the fabrics in this collection, which I am loving!
This quilt would look great in any decor, yet with these fabrics, it has a country sensibility to it. Chickens and horses and barnyard landscape… a celebration of the life many of us would gladly return to just about now, right?
Yet, look how cool the chickens turn out with other fabrics! This free chicken quilt pattern will work with your favorite collections or as a scrappy quilt, of course. However, if your taste or home decor is farm-style, Poppy Prairie is a cool choice. It makes a cool quilt for kids, too.
Notice the high contrast between the fabrics I chose for each block on the Flock Party quilt. The collection I used had all variations of value, scale, and texture I needed for a successful quilt design.

The chicken block I chose for Flock Party is very simple, with straight lines for easy piecing. Half-square triangles and the stitch and flip method are the only things you need to know about quilt-making in order to put the pieced chicken quilt block together.
If you are not familiar with the stitch and flip method, here's a quick photo tutorial showing you how to make the blocks for a fast wall hanging where I used this technique.
As the chickens are facing right and left, the instructions guide you through assembly so you can have them just as I do on the photo. Organize the fabric pieces and it will be a breeze. Quilt blocks that finish at 10″ are also easy to make as the pieces required, particularly in this case, are mostly large.
I do like to use different fabrics on the same type of block because, when done right, we can add interest to the project and not make it so busy that you don't know where to focus. The quilt looks scrappy, and the sashing provides a resting place for your eyes.
The sashing with cornerstones is fantastic because you can easily 'butt the seams' and the block/sashing seams will align with the sashing/cornerstone seams provided you are mindful of them. If the horizontal sashing is a long strip, as you stitch the rows together you must ensure the seams from the previous row and the next one are aligned, despite being separated by the sashing.
You can download the Flock Party quilt pattern by going to Dear Stella's website, clicking on the Projects tab, and scrolling till you find it. While there, you will find other quilts you can make with their amazing fabric collections. Check them out!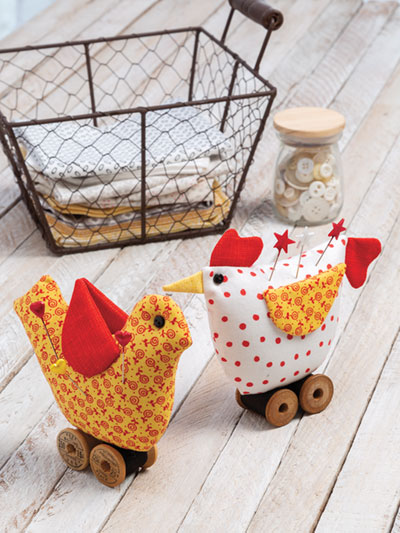 I have a thing for chickens… Although I no longer have the photograph, I made a fun quilt with chicken blocks for my sister many years ago, and pincushions, too. Speaking of which, I found these super cute ones! Here's where you can find the pattern in case you want to make them.
This is how my Friday is rolling: chickens going to and fro but their heads are not cut off! Party! Have a great weekend,