Happy Friday, quilty friends everywhere! This week has flown by and I got a lot done, including the quilting and binding of this wall hanging I made for my grandsons. It began with my need to test the snowball blocks for an upcoming pattern. So, I decided to show you how to make a quilted wall hanging and made a tutorial.
[Edited June 13, 2020]
Upon opening a random fabric drawer I saw these fabrics (Trekking collection, remnants from a project I made for Michael Miller for last year's QuiltCon). As I cut them I had the idea of turning this test-block session into a present for the boys.
I took photos as I went along and here you have a step-by-step tutorial to make a quilted wall hanging. It measures 22″ x 22″, the blocks are 10″, and it is perfect for novelty fabrics or other prints you want to show off.
What you'll need:
(4) 8″ squares of different prints
(16) 3″ black squares
(16) 2-1/4 small print squares
(8) 1-3/4″ x 8″ solid white strips
(8) 1-3/4″ x 10-1/2″ solid white strips
(1) 2-1/2″ black square
(2) 1″ x 18″ strip small print for sashing
(1) 2-1/2″ x WOF strip of the same small print for sashing, cut into four 2-1/2″ x 7-5/8″ rectangles
(1) 1-1/2″ x 18″ black strip for sashing
(3) 2-1/2″ x WOF stripe fabric for binding
7/8 yard backing fabric
26″ x 26″ piece of batting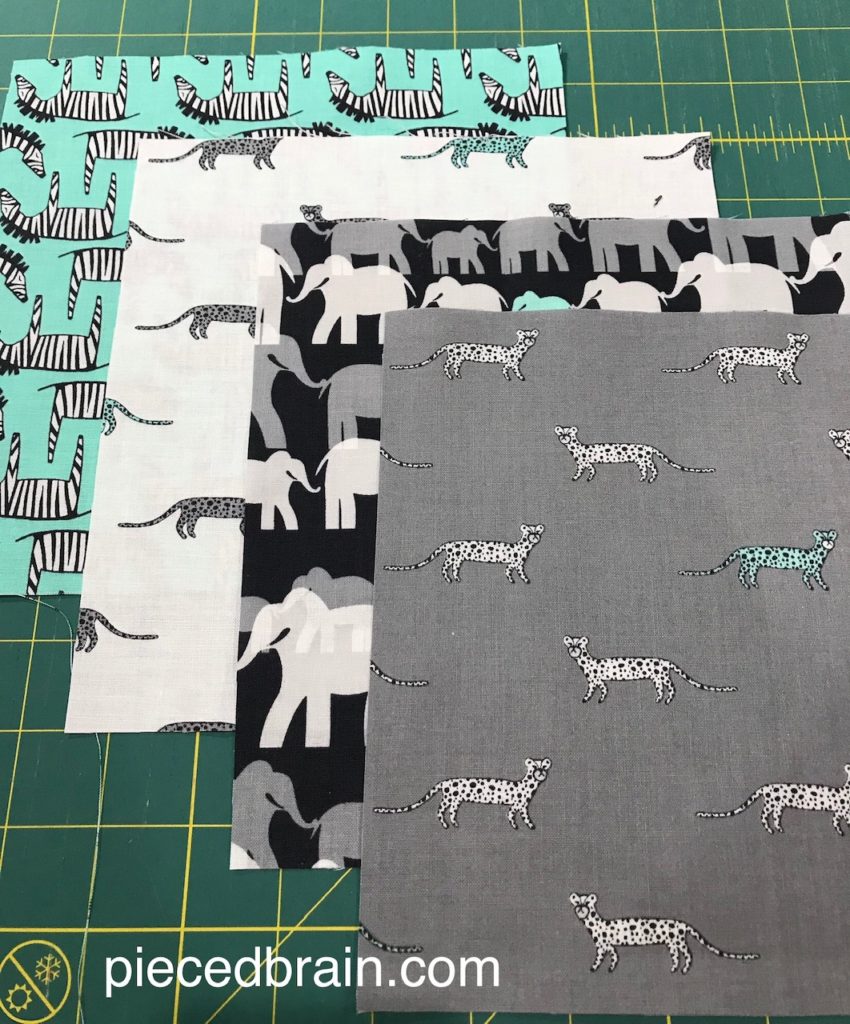 Here are my 8″ squares. Notice how they contrast to give interest to the quilt. Although they are from the same line, you can also use assorted fabrics, as long as they have different values to contrast well.
You can use one of each light, medium light, medium, and dark, for instance. Or, one of each color group if you are working with prints. Either way, if each one stands out from the others, you are good to go.
Draw a diagonal line on the wrong side of the 3" black squares. With right sides together, place one marked black square on a corner of one 8" print square and stitch on the drawn line. Repeat with the opposite corner of the same square. Trim seam allowances to ¼" and press open. Repeat with the other corners of the square. Do the same with the other 8″ print squares.
Repeat the previous step with the 2-1/4″ small print squares. The black provided a break between the colors, emphasizing both prints.
Sew two 1-3/4″ x 8″ white strips to opposite sides of the squares. Press the seams away from the center.
Sew one 1-3/4″ x 10-1/2″ white strip to the top and one to the bottom of the squares. Press the seams away from the center again.
Sew the 1-1/2″ x 18″ black strip in between the two 1″ x 18″ small sashing print strips to make a strip set. Cross-cut the strip set into four 3-3/8″ sections. Sew one 2-1/2″ x 7-5/8″ sashing print rectangle to each section.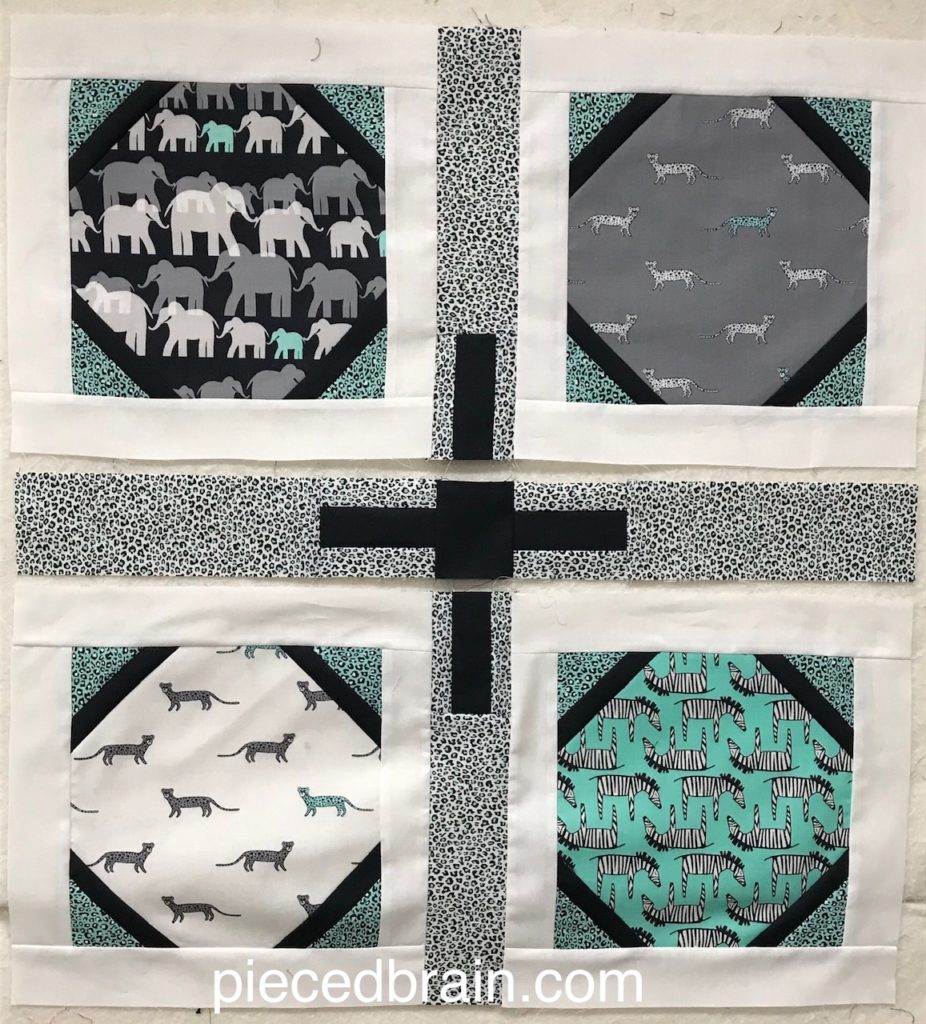 Assemble the wall hanging in rows as shown above. Notice that for the horizontal sashing strip I stitched together two pieced sashing rectangles with the 2-1/2″ black square in between.
Make the sandwich with the quilt top, batting, and the quilt back and free motion quilt away! Add the binding, and you are done!
Phew! My first Christmas gift for the boys is ready. And the blocks tested perfectly so the pattern can be written. My pattern does include another block but I needed to ensure the size of the squares for the snowball blocks was just right for the look I was looking for.
There are many possibilities for this wallhanging: holiday-themed for the entire year (you know those awesome prints you've been saving?), florals, modern fabrics… you get the idea. Use this tutorial so you know how to make a quilted wall hanging, photograph your project and tag me on Instagram (@piecedbrain) so I can see it. You can also email me the photos so I can post them here.
If you love making wall hangings as I do, check out my Teapots Wall Hanging and the Kite Wall Hanging for inspiration!
Enjoy your weekend!