Here is a free Barn Quilt pattern to make with quilting fabric and take on your next road trip as you look for barn quilts of the wooden kind! Wait till you see the fabrics on this bright and bold quilt…
I designed the pattern "Barn Quilts" for the amazing Landscape Stripes collection by Timeless Treasures. The quilt measures 50″ x 62″ and the blocks finish at 12″. It uses very simple paper piecing with the stripes of each fabric adding dimension and texture to each block.
If you are new to paper piecing, or need a refresher course, check out this paper piecing tutorial for step-by-step instructions.
We've all seen, and may even own, a barn quilt. What is a barn quilt? it is a large piece of wood painted to look like a quilt block. Barn quilts usually measure about 8 feet square. At home, we have the 12″ type sold on Etsy or made by our friends.
The photos above show the two wooden barn quilts I have – the one on the right was a gift from my friend Deb featuring my favorite color. They make great home decor accessories and gifts, too.
Back to today's free quilt pattern – the Barn Quilt. When I saw those beautiful prints above (there are more!), the first thing that came to mind was the wooden barn quilts we see around the country. From there, the design came together easily.
The colors of the prints in the Landscape Stripes collection are vibrant, and the organic textures make them perfect for landscape quilts, too, don't you think? Cut in small pieces, they can be used in many designs to great effect.
I decided to make this barn quilt pattern a one-block quilt in order to emphasize the fabrics. Another reason was that you could make it in one weekend!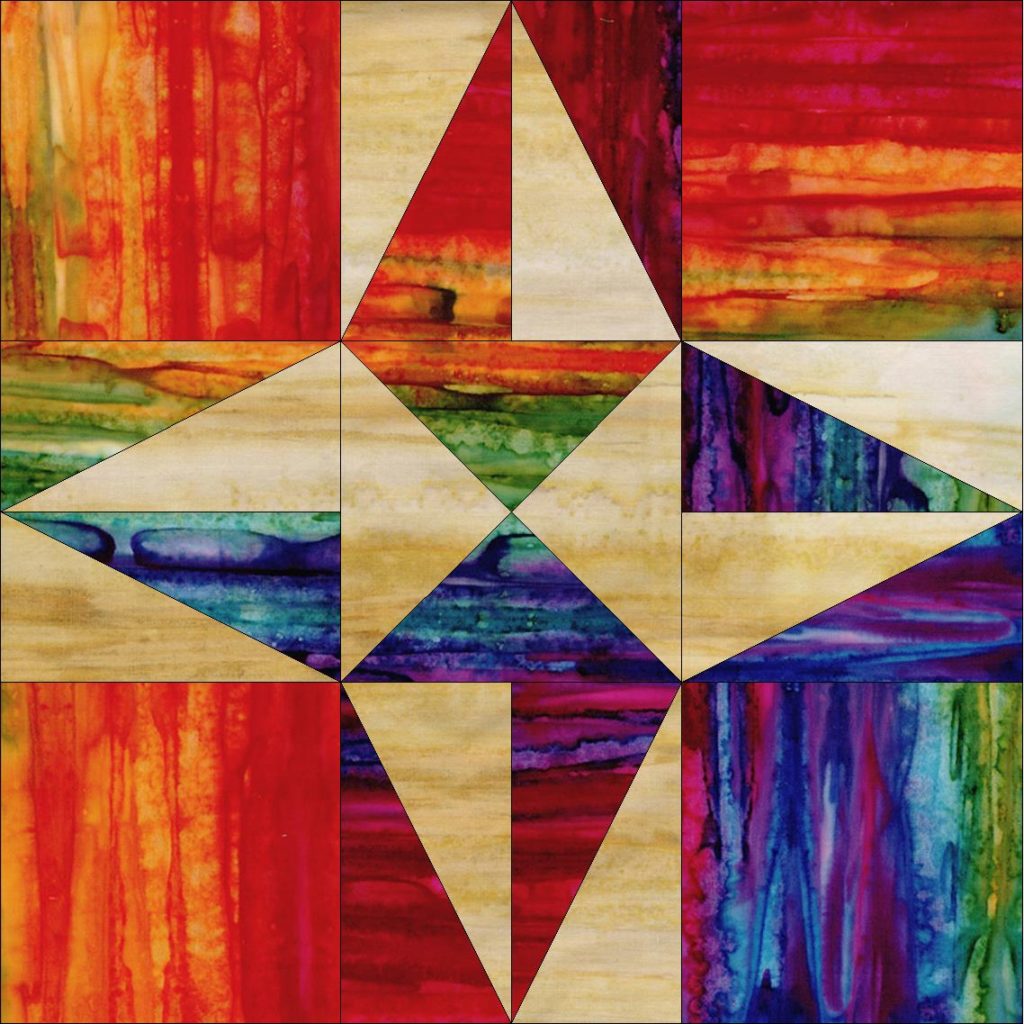 The beige provides the ideal background for every block. Yes, it also has stripes and gradations as all the other fabrics lending depth and contrast to the overall design.
Sunsets, forest hikes, mountain hues, and sea motion… I love them all! Whenever you make other projects with them, be sure to set them next to lighter fabrics as I did so you can showcase them better.
Another fun aspect of these blocks: the stripes will be in different directions as you assemble them, so do not waste time trying to place them in the same direction.
I made a sample of the block using Christmas fabrics. If you know me, you guessed correctly – I will turn this into a wall hanging or a mini quilt!
The Barn Quilts pattern is downloadable from the Timeless Treasures website – you can look for the fabrics, download the PDF, and sew away.
I designed another pattern with this collection. It is called Shaman's Coat. I was thinking of the work I see on the Southwest of the United States… and the colorful fabrics draped over Native American Shamans.
The blocks on Shaman's Coat finish at 12″ and the quilt measures 61-1/2″ x 75″. The blocks are very simple so this is an ideal quilt pattern for beginners.
Shaman's Coat can be downloaded from my Etsy store, or you can find it at your favorite quilt shop.
Above I show a sample I made using many batiks. You know, I never ever have yardage of the fabrics I design quilts for, only jpegs sent by the manufacturers. It can be quite a challenge, sometimes, particularly when working with directional fabrics…
Thus, the samples are made using what I have on hand. When the fabric direction has to be kept upright, I look in my stash for directional fabrics so I can cut, sew, and write proper instructions. Phew. Some hair-pulling can be seen in my studio during this process.
And so, I leave you with this free quilt pattern, a burst of bright colors from this Timeless Treasures' collection, and inspiration to last you until next time I write.
Happy Monday!