Download 2 free Christmas quilt patterns and cross off two gifts from your Christmas gift list. Or maybe more!
Did you notice that Costco already has Christmas stuff for sale? But July has not ended yet! I guess we can get ahead of the curve and slowly be ready for the Holiday Season. In that spirit, how about you download 2 free Christmas quilt patterns and begin making some gifts for family and friends?
I designed two quilts for the Winter Joy collection by Hannah West for Henry Glass Fabrics, and I think you will love them. This beautiful collection features rich reds, pine greens, and subtle shades of winter whites with Frosty & his friends playing in fresh snow, surrounded by red holly berries, evergreen leaves, and winter season birds.
Quilt 2 above measures 59″ x 81″, and the blocks finish at 11″ x 13″, so you can alternate them with the panels in the quilt. As you can see, it is a fun project for beginners (the pattern says Advanced Beginners in case you have never worked with panels before). You will work with half-square triangles, and that's it!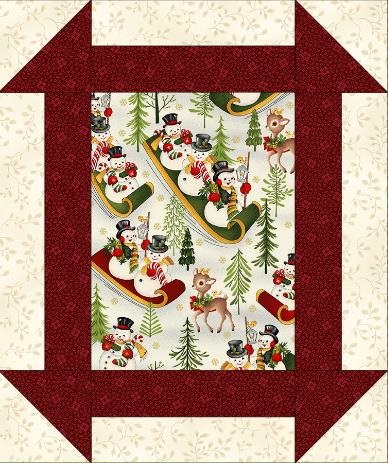 Aren't these fabrics super cool? Although my childhood memories of Christmas are of a tropical nature, I've lived in the US for almost 36 years now, and my three sons (and two grandsons) associate Christmas with snow, having grown up in the Northeast and Utah. Thus, all my Christmas projects have to do with snow, snowmen, sleds, candy canes… If you can relate and would like to see other projects with the same theme, check out these free Christmas quilt patterns.
You will need two of these panels for Quilt 2. Hannah was inspired when she designed these images that will delight little ones and adults alike. You can use the panel in other projects such as pillows, table runners, and wall hangings.
These are my favorite Christmas colors, too, so I was happy to design projects for this collection. The basic prints are from the Folio Basic collection and add amazing texture to the blocks.
This quilt comes together very fast as you can chain-piece the half-square triangles and the side strips. Beginner quilters and veterans alike will enjoy this project, and I bet you will make more than one. However, wait until you see the next quilt!
Winter Joy Quilt 1 measures 68″ x 82″, and the blocks finish at 12″. There are only two blocks, but the fabric combinations vary to display the whimsical prints. The print on the wide border adds movement to the design, and the green narrow borders frame everything providing a contrast to the sledding snowmen and a restful place for the eyes.
The texture of the prints in the Winter Joy collection made my work delightful! To be sure, I enjoy working with solid fabrics. whether I am designing quilts with EQ8 by The Electric Quilt Company (I would not do it any other way) or when sewing. But when a fabric collection has lots of prints with different motifs… oh, the fun!
The instructions in both patterns are detailed and will help you complete them very fast. Should you have any questions, though, send me a message.
I mentioned that this collection is shipping to the stores right now. Go to the Henry Glass website to find a store near you that carries it. I would get enough for these two projects and to use in other patterns – that's how come my fabric stash is huge… Are you like me?
Download 2 free Christmas quilt patterns now, get the fabrics, and start sewing. If the merchandise at Costco is any indication, we must begin getting ready for Christmas!