Make quick Christmas Quilts with 12-inch Quilt Blocks that you forgot you had! Simple layouts translate into fast gifts or holiday decor.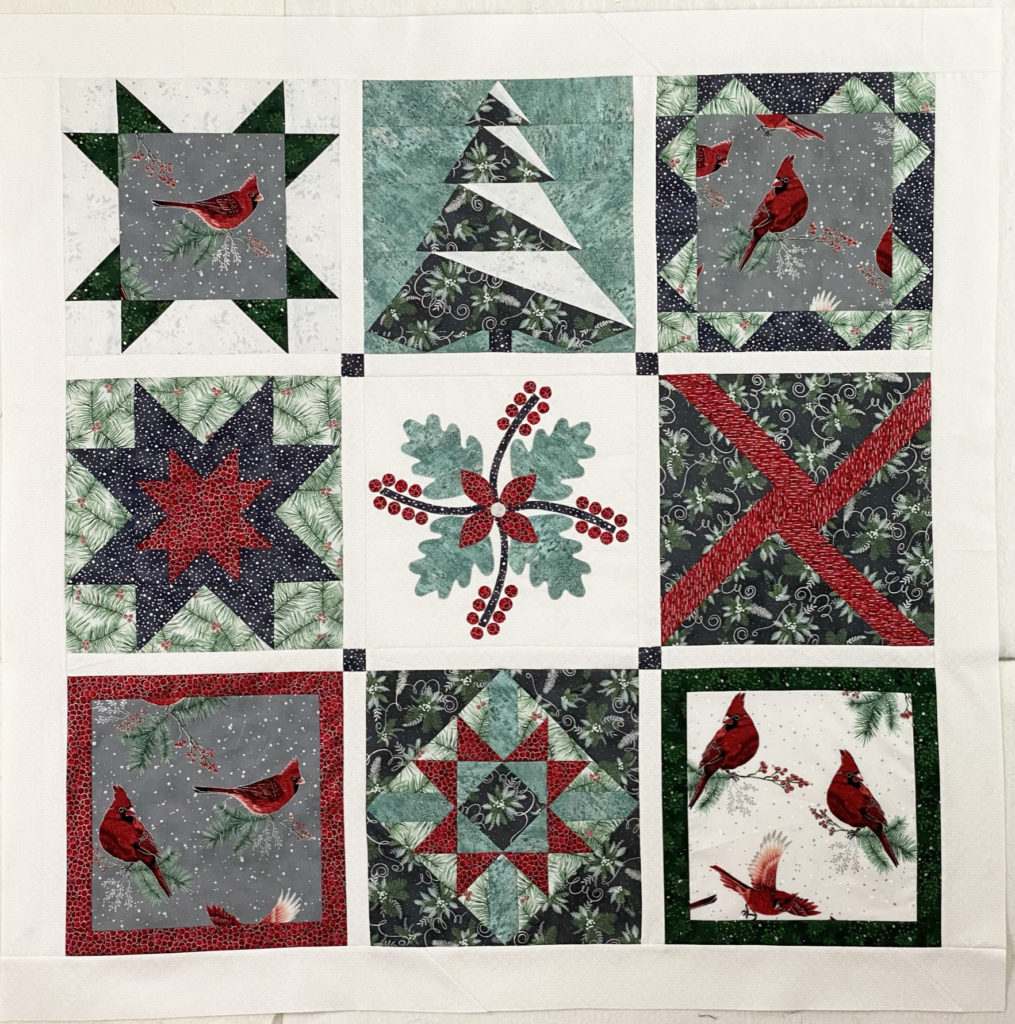 Last Saturday, after writing a pattern I decided I wanted to spend the rest of the day sewing. I actually wanted to see if I could make a quilt with some test blocks I had. You know that when I test blocks I try to use similar fabrics for many of them so, down the line, I can just put them together into a quilt. That was my mood that day.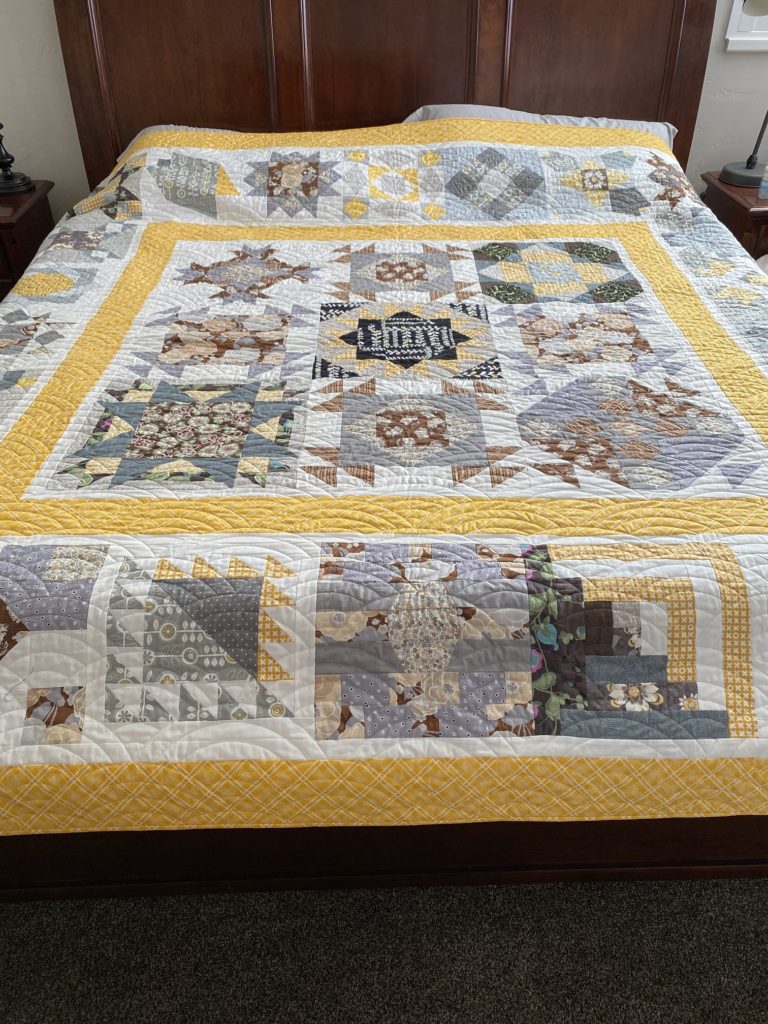 The quilt above was the first one I made using test blocks with fabrics that went well together – it is really scrappy. My husband loves it so it stays on our bed most of the year. The bright yellow was a great match with the yellows that appeared here and there on the blocks and I was pretty happy with it. It is a very large quilt as this is a king-size bed.
I've made MANY Christmas quilts and have lots of fabrics for that holiday in my stash. I went to my project box with test blocks made with Christmas fabrics and I loved what I found. The first three blocks below are from Flights of Whimsy, one of my most popular patterns.
This first block is machine appliqued, my favorite method of appliqueing. The pieces are large enough to handle, even the dots. I used matching thread and the blanket stitch. If you never used this method before, you don't know what you are missing!
I work with Heat'n Bond and have great fusing results. Which fusible web do you use? Does it work well with all fabrics? When my project has many tiny pieces, like the one below, not even the finger of the Almighty can hold them in place, particularly when I work with batiks, as it was the case:
I spent a whole day fusing the tiny pieces onto the background of this Mandala wall hanging (that links to the short, 1-minute video I created when making this quilt). The next day, when I was ready to quilt over them, most of the pieces had fallen to the ground! I had to pin them in place and then be careful as I free-motion quilted everything, making sure they did not move around and that my fingers did not bleed on the project… Phew.
But I digress. Here is the tree block that I love so much. The paper-piecing is very easy and I think I will, some day, make a whole quilt with this tree and assorted fabrics on both the branches and the snow. The background will be sky blue!
This is a fun way to feature prints you love. These fabrics all come from the Frosted Flight collection by Hoffman Fabrics. I am not sure if you still can find all the prints but it is worth looking for them! Those robins and the silvery details on each print are so beautiful… This is a modified star block and its negative space is perfect to direct your eyes to the main attraction.
Speaking of stars, the first two blocks above are fun variations on the theme. The bursting effect on the star at the far left works well with contrasting fabrics, and the pine branches on the background makes it look like it is hanging from, or topping, a Christmas tree.
Although the middle block looks a bit complex, its parts are all easy to assemble. Its on-point setting adds movement to the overall design of the quilt.
I realized I had two robin blocks and could use two more blocks to complete this wall hanging or table topper. I found enough fabric in my stash to cut two 10-1/2″ squares with the robins, framed them with narrow borders, and placed them on the bottom corners of the project on my design wall.
After that, I added sashing and cornerstones. I am often tempted to add a single, long horizontal sashing but immediately nix the idea as it is more difficult to line up the blocks from one row to those on the next row when you do not have cornerstones. So, there.
There is one more block that I did not photograph, but you can see it at the end of the second row. The lone white border gives it a more modern look. Done!
Next, I pulled out all the more traditional Christmas blocks with red, green, and gold. The center block measured 21-1/2″ and I do not remember what pattern I was testing. Oh, wait, it was Angels Sing! Anyway, apparently, after I made the star and the angel blocks I decided to put it all together with a center block. I added a narrow border to turn the center block into 24-1/2″ to fit the 12-inch blocks all around it.
By then, it was almost 6 pm and I just put a black/gold border all around. The backing for both quilts was 'super' pieced using whatever leftover fabric I had that belonged to the collection, or matched the blocks on the quilt top.
I dropped my Christmas Quilts with 12-inch Quilt Blocks at Melissa's house (Sew Shabby Quilting) and, once they are quilted and I bind them, I will post the photos here.
What a fun way to spend the day! I could not have made two quilts if I did not have the blocks pre-assembled. Hurray for test blocks!
Do you have orphan blocks hanging around your studio? Have you ever considered turning them into bags, table runners, table toppers, or lap quilts! Gimme more ideas as I have tons more blocks!
Have a great Monday,