Last weekend, I had the privilege of visiting the Quilt Exhibit at the International Quilt Festival in Houston. Although I know someone actually spent four hours viewing the quilts, the hour I was able to spend there filled me with awe and inspiration.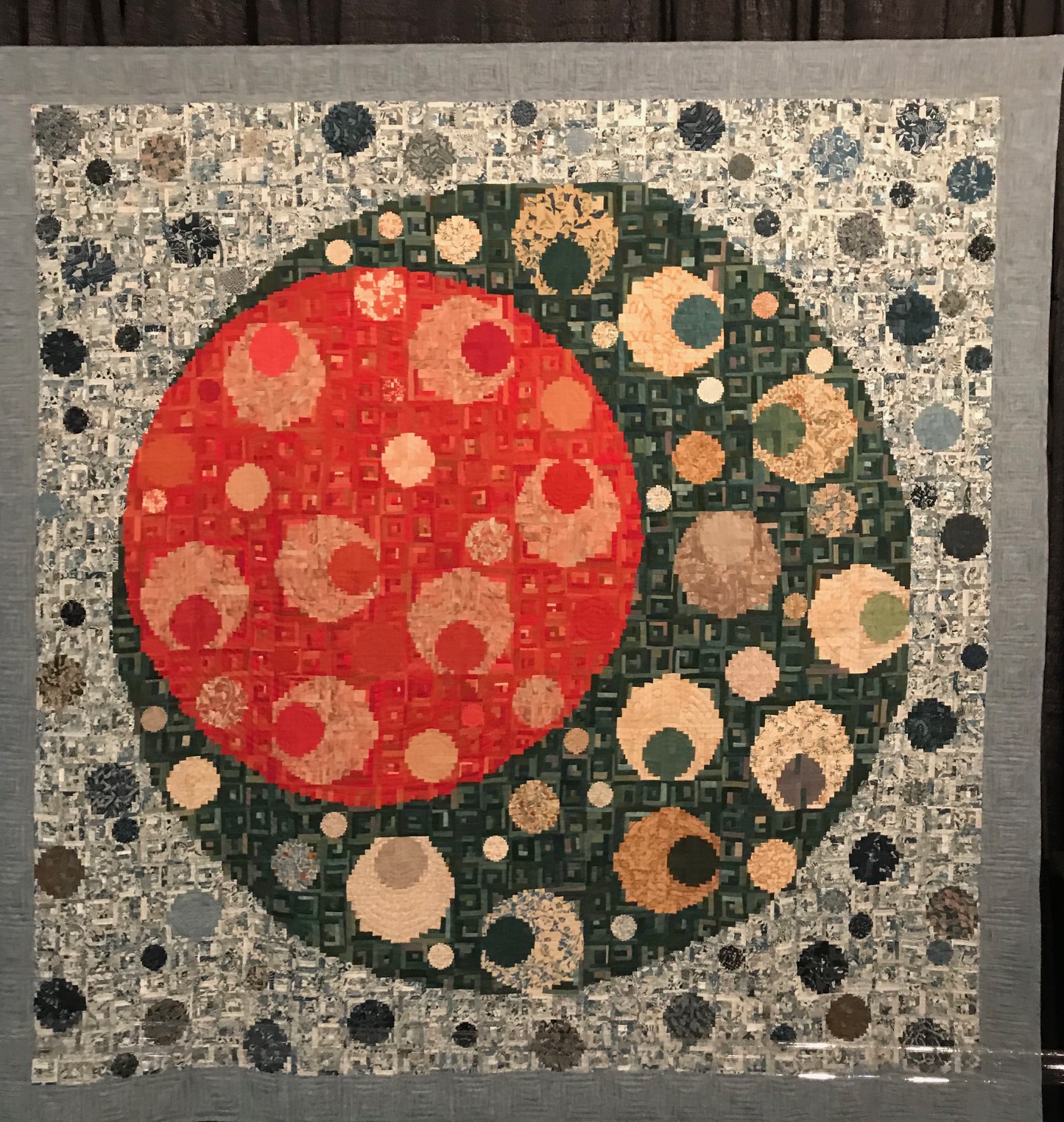 The quilts above are by Shizuko Kuroha from Tokyo, Japan. This exhibit was called Pieces of My Life and featured her amazing, intricate quilts made with fabrics from her extensive collection of antique Japanese fabrics, especially indigo fabrics from old futons and clothes.
Most of the blocks were tiny log cabins, sometimes showcasing only one fabric in every piece. However, since every piece of fabric has its own light and texture, the results were out of this world…
This quilt is called Flowers of the Mind by
Annamaria Brenti
, in the special exhibit Flowers of the Mind, Florence in my Heart. You would not believe the amount of detail in this quilt! Annamaria created with silk, embroidery, and hand applique' a masterpiece in three sections.
She included embroidered blocks about theorems and problems of classical Greek Mathematics, and I stared at her work for a very long time. Her flowers and plants were inspired by the work of Gentile da Fabriano and Botticelli's Primavera.
Above is "The Performance" by Linda K. Ainsworth of Belmont, Texas. The traditional bear paw block quilt was elevated to new heights with the addition of her hand applique' dancing animals. I wish this quilt were in my house right now.
Oh… the burst of yellow! This is Vintage Rose, designed by Judy Niemeyer, made by Lisa McCarthy, and quilted by Carrie Zizza. This is a show stopper, not only because of its intricacy but because of the fabric choices as well.
I have not made any quilts designed by Judy yet, but I have a few on my To-Do list. I love paper piecing and would probably use batiks as Lisa did.
This is Roses in Hometown's Park by Toyoko Nakajima from Gunma, Japan. She combined hand applique', embroidery, and trapunto with skillful fabric placement to bring to life the gardens of her childhood memories.
I love this design: it is dainty, calming, yet filled with bright colors and movement. What fantastic execution! Do you see why I love the International Quilt Festival in Houston?
Another beautiful work featuring hand and fusible applique, and embroidery. It is called Brazil 2017, 2018, and 2019 and depicts all the changes and political upheaval in our country. The designer and quilter, Adriana H. M. U. Sleutjes from Porto Alegre, Rio Grande do Sul, Brazil added the drawings of children from the book Story Quilts by Yukari Takahara.
It was also a show stopper for me as the site of the Brazilian flag brings back so many fond memories from when I was growing up there.
Finally, I took this photo of one part of the Sapphire Collection, an exhibit with new and antique blue and white quilts that took my breath away. I know what I like in quilts; however, when I go to an exhibit I check my likes and dislikes at the entrance and am thus free to absorb the beauty, be enchanted by the creativity, enjoy the colors, light, and energy emanating from all that work.
The
first time
I went to the International Quilt Festival in Houston it was a fantastic experience. It never disappoints!
There were many other quilts that made me wonder how artists could do with fabric the incredible things they did. Fold, tear, paint, stitch, embroider, and overlay. Fabric is a fantastic medium… what will you make with it this weekend?
Have a great weekend,