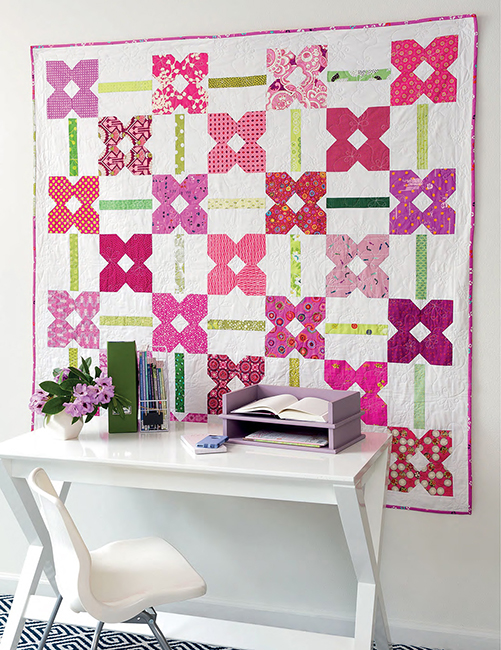 All photographs by Brent Kane for Martingale. Used with permission.
I have been eyeing this photograph since I received the book: I could make one quilt for every season – the established ones and the ones I may make up: Cloudy season, Don't Hide the Sun season, Polen Blast season, Moody season, Raking season, Slush under my Feet season… The simple and charming design gives me lots of opportunities to feature fun fabrics. One flower of each fabric or one petal of each fabric depending on my mood; either way, it would be so happy and fast to make. I could even make the centers yellow if I am pining for cheerfulness.
When I first began quilting I would buy fabrics from the same collection: it was safer, I did not need to give any thought to how they went together because they did, and the 'package' always looked enticing. Today, I am comfortable and delighted with my own cocktail of textures, hues, designers, trends – all mixed together in a soul-soothing stew of fiber and color.
The negative space on the quilt above makes it lighter than its "only squares" traditional counterpart, allowing my eyes to feast on the uniqueness of each patch. With every scrap a burst of happiness.
And then there is this beauty – the temporary disappearance of The Big Star from my outdoor world this week would be fully compensated by the constant brightness of this quilt. What is it about that background that pulls me to it? The easy paper piecing directions turn this quilt from intimidating to totally doable. By the time I am done, I would have willed the sun into being again…
I like how Kate Henderson chose two or three colors at the most for each of her designs, a sure way to help those of us who are afraid to venture on the scrappy journey get started. I never thought to separate my scraps by color – Kate just gave me a reason for it.
"Scrappy & Happy Quilts" has 13 beautiful quilt projects no doubt inspired by the landscape around Kate's home in Western Australia. They are easy to make and perfect for precuts, too. What is not to like about this book? 🙂
And with that, I am leaving to take Mr. Toby the dog to the 'spa' for some pampering. Boy, I never thought I would be jealous of a canine.
See ya,