I promised on my newsletter that I would have a giveaway this week and here it is: 3 yards of Fabric Giveaway and free online craft classes – one courtesy of my friend Deb and one courtesy of Bluprint. Yeah!
These are the fabrics I am giving away: a half-yard bundle with Kona Fabrics. I love the cheerful prints and the palette. Add matching solid fabrics and you can make a super cool quilt.
I like half-yard bundles because they are so versatile. This one brings to mind modern quilt designs – click on the Free Patterns tab above for lots of patterns you can download, and I am sure you will find one you can make with these fabrics.
You can choose a quick quilt such as the Away WE Go or the Clover Quilt that I just found on Annie's Catalog. I love having patterns for easy and fast quilts on hand – I never know when I will need to whip up a gift. Do you have a favorite quilt pattern you go back to over and again? Share it with us on the comments below.
My friend Deb is so generous! Here, Denise, take these fabrics and give them away on your blog. I know you are glad I said "Thank you!" instead of "Are you sure?"
The spring colors in this half-yard bundle are screaming to be used on quilt blocks that show them well. If you follow me via email you received a quick email newsletter this week with the first Pieced Brain Exclusive quilt block. Don't you think the Kona Fabrics would work well on this one?
The plan is to send to my blog followers original quilt block designs every couple of weeks or so. Then, I will come up with a layout so you can make a sampler quilt with them. The link to the instructions to make the block is in the newsletter – if you are interested, follow via email!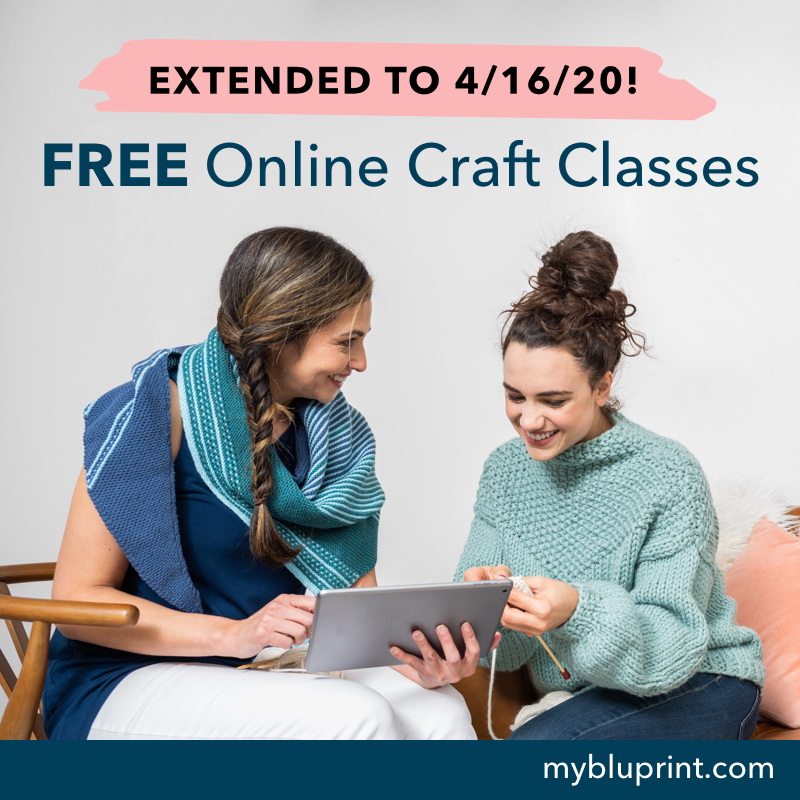 I was about to write this post when I got an email from Bluprint with an amazing offer: 14 days of free online craft classes beginning today. How could we pass this up?
Should we call this a happy Thursday yet? With the chance to win on this 3 yards of Fabric Giveaway and free online craft classes, I think so.
During the 14-day event, Bluprint (this is an affiliate link) will provide free access to their full slate of content including more than 1300 classes and series, and hundreds of step-by-step project tutorials and patterns making this the perfect time to learn a new craft or hobby.
These days, it is all that we can do to stay busy and happy. I am sure our children will benefit from these free classes. I can't stop praying and hoping that mothers all over the world will be inspired with ways to keep calm, entertain their children, and have peace while being in such close quarters with them for extended periods of time (no matter how big your house, it can get pretty small quickly, right?).
We need ways (free, hopefully), to keep the kids busy while we are all at home. Anyone can sew, knit, crochet or do other crafts. Then, we can have a craft fair at the end of the week!
To get the 14 days of free online classes, you just have to click on this Blueprint link. Now, to enter the giveaway for the 3 yards of fabric:
Leave a comment below telling me your favorite song right now. Be sure to write your email on your comment (use this format: soandsoatinternetdotcom and you won't be spammed) and I have a way to contact you. The winner will be announced on Monday, March 30th, so you have until Sunday night to enter. I will ship them internationally, too.
Happy sewing!