I created a second version of my Nature Lover design, which is a Butterfly quilt pattern to make in a day. Among the many baby quilt patterns out there, this would be fun if made with novelty fabrics. You can also use it as a wall hanging or a table topper.
This quilt measures 47" x 47" and the block finishes at 8" so it can be made quickly. Sometimes, we want to make a quilt but we can't spend too much time on it. I guarantee you will spend more time pulling fabrics together than assembling this project.
The fabrics I chose are batiks from the collection My Heart's Abode collection by Anthropology Fabrics because they are so happy – I had to use them. There are lots of great colors and textures so the butterflies would turn out very scrappy.
Here is a quick tutorial to show you how I put this quilt together and how I work with applique':
First, I trace the butterfly shapes onto the fusible web (I like Heat 'n Bond Lite), cut them and fuse them to the wrong side of the fabrics.
Second, I wait till all the fabrics have cooled and then I sit down to cut them. It is great to have an audiobook to fill your mind while you cut these shapes. Use a sharp pair of scissors, such as a 5″ which is easy to manage, and round the corners, make the points pointy, you know the drill.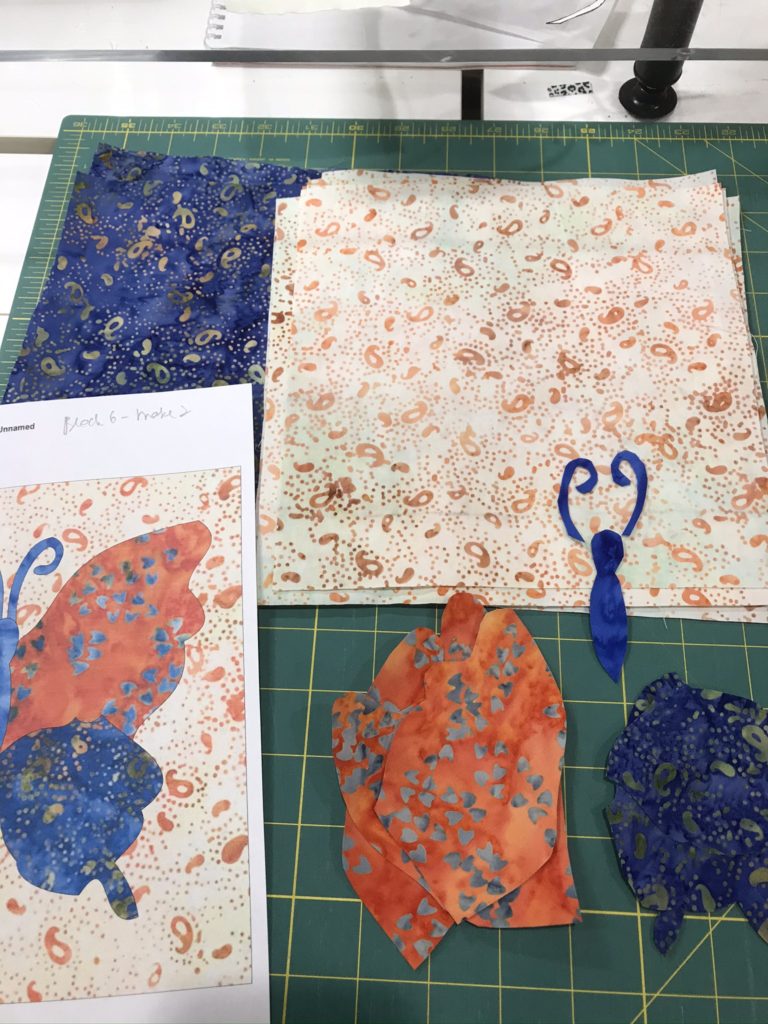 Third, remove the backing paper and refer to the pattern to group the butterfly shapes to the correct background square – dark or light.
Fourth, place the shapes onto the background fabric and fuse them. Watch the very short video above to see how I work with the background square and the shapes. If you pay close attention, you will hear what I did with the word 'Abode' (ai, ai, ai…).
Fifth, I select a thread that matches each of the fabrics I am using. I always machine applique' with 40 wt thread, unless I do not have a specific color (I have dozens of spools), in which case I will use whatever thread weight I have, even embroidery thread.
Sixth, the fun part! I love machine applique' using the blanket stitch, and this is what I am doing on this photo. Notice the presser foot – it is transparent so I can see where the needle is touching the background or the applique' shape. This is important because if you don't see where the needle is touching, you won't know where and when to pivot, and the stitch may be too far away or too far onto the applique' shape to look good.
I love the back of the block after I applique' it. One of these days, Alice, I will use the back of the block instead of the front!
Finally, stitch all the blocks together, add the borders, and get the backing ready to send it all to the quilter. Now you believe me when I say you can use this Butterfly quilt pattern to make the quilt in a day?
Nope, I still can't free-motion big quilts and, until my right hand is completely healed, I will continue to send my quilts to Melissa at Sew Shabby Quilting.
When Melissa is done with her magic, I have a cocktail of textures – on the fabrics, on the applique', and on the quilting motif. Yeah! Oh, the other version of my Nature Lover pattern can be found on this post, with a completely different colorway (but still batiks! Yes, I know…).
You can find this butterfly quilt pattern on my Etsy Store, PiecedBrain. It is downloadable so you will get it, choose the fabrics, and begin making.
Nature Lover – Summer turned out so cute. I may actually use it as a table topper on my dining room table. Between this quilt and Punxsutawney Phil, maybe we can speed things up and bring in Spring!
Have a great weekend,