Are you looking for a cool Christmas quilt pattern? How about a Free Christmas Quilt pattern with poinsettias and applique'? This one is called Dancing Poinsettias and you still have time to make it before the big event!
[Edited May 21, 2020.]
I designed Dancing Poinsettias for Hoffman Fabrics and their beautiful collection Poised Poinsettia. It measures 55″ x 55″ and the blocks finish at 12″.
This size is ideal for a table topper or wall hanging. If you use a flannel backing, it would be a perfect lap quilt, too. Lap quilts are fun to make and gift at any time, particularly during the Christmas season. If that is your cup of tea, download the pattern and get started this weekend.
Can you guess why I named it 'Dancing Poinsettias?'
The stems add the movement to the block and the illusion of dancing moves. I thought it was so cool!
You know how much I love machine applique' and I could not resist the opportunity to showcase Hoffman's beautiful collection on this motif. You just fuse everything to the background and use the blanket stitch (or another decorative stitch of your choice) and matching thread (40 wt. is the best) to secure the edges of each shape.
The quilt will be completed in no time because there are only a few blocks, the pieced block is easy to assemble, and the instructions include lots of diagrams to expedite the process.
These rich reds and greens announce Christmas like no other color combination for me. To be sure, I have designed Christmas quilts featuring other colorways. Yet, the traditional hues of the Holiday Season put me in a festive mood. I can't wait to decorate the Christmas tree with them.
Although I used traditional prints, Dancing Poinsettias would look lovely with novelty fabrics or your favorite colors for the Holidays. Reds and Greens bring back childhood memories, so they are my go-to combination for this time of the year.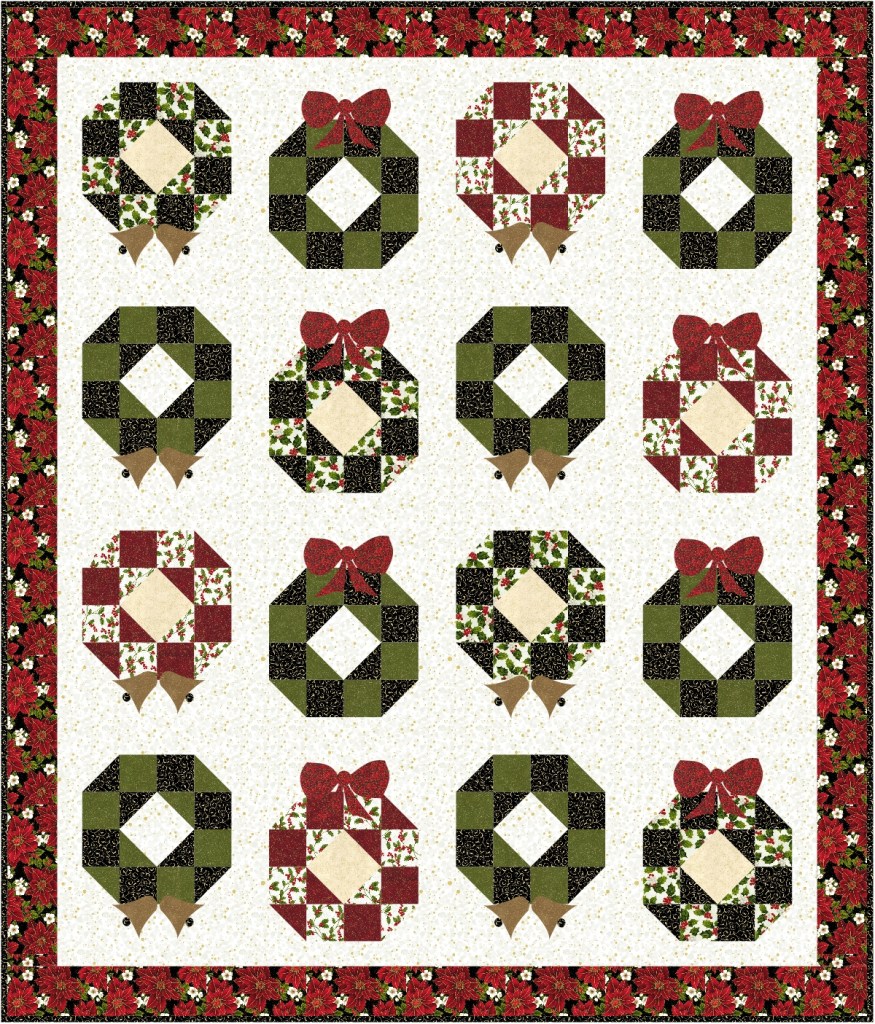 Here is another pattern you may want to download from Hoffman's website: Bows and Bells, which I also designed. For a quicker project, make a wall hanging featuring four of the wreaths: two with bows and two with bells.
As with the Free Christmas Quilt pattern with poinsettias – Dancing Poinsettias – the applique' in Bows and Bells is also done with the machine and the blanket stitch. Yes, you can use the needle-turn method but it will take considerably longer. My goal is to reduce the number of unfinished projects I have; thus, when I want to applique' I use my Bernina and only hand stitch wool quilts.
Go ahead and download these patterns so you can get to them after the Thanksgiving Holiday. There is still time!
Speaking of time, I am sure you noticed I've been gone for a few weeks while my blog was being transitioned to WordPress. If you see anything amiss, send me a message. Otherwise, I hope you enjoy the new look and colors.
Happy Thursday!