Add color to your home with these three easy modern quilts that will bust your fabric stash. I bet you will make all three!
Are you ready to hit the reset button on some traditional quilt blocks? Let me show you what you can do with two of my favorite blocks. As you read on, think about how you can adapt my ideas to your preferred color scheme by using prints (a smaller scale will work best in a couple of them) instead of solids, a low-volume background instead of white, or even a dark background with lighter colors on the blocks for a completely different look.
The first one I designed is called Sky Beads. It measures 57-1/2″ x 71″ with 12″ blocks. I changed the corners of the Ohio Star block, adding different colors to each one. When placing the blocks on my wall, I rotated them to add movement to the design. The finished look screamed PLAY!
I worked with the Cotton Shot collection by Amanda Murphy for Benartex for this quilt. The white background made it airy and fun. The light blue on the star's legs contributed depth and offset the darker colors in the middle.
I chose 7 colors and repeated them in all the blocks. Then, when I rotated the blocks, I could see a secondary pattern that would have been hidden had I used colors without a plan.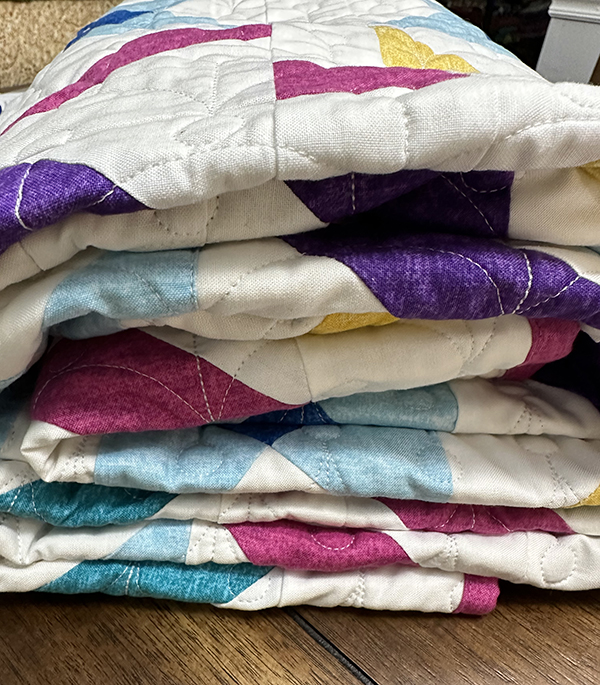 Tips for selecting fabrics for your quilt
When making this quilt, or any of these three easy modern quilts for that matter, with prints from your stash, do this for success:
Select small-scale prints.
Make it scrappy if you wish, but keep the star legs lighter in value than the other pieces.
Use low-volume prints for the background but ensure there is a lot of contrast between the background and the star parts.
If you need help settling on a palette, choose a fabric you love and gather fabrics with those colors and hues.
Arrange the selected fabrics on the table and take a photograph with your phone. Do something else for a few minutes, then look at the photo. Do you like those fabrics together? If so, you will love your quilt!
Do you need a fresh take on Churn Dash? Swap half-square triangles with pinwheels! See what it looks like in my second quilt – Floral Vibes. It measures 46″ x 46″ with 12″ blocks. I worked with the gorgeous Flower Power collection by Maureen McCormick for Moda Fabrics. I love this collection! The prints are happy, vibrant, and playful.
The size of Floral Vibes is ideal for a table or wall. As in Sky Beads, the blocks are easy to assemble. The pinwheels of the alternating blocks create a cool design:
The blocks I chose were perfect to showcase the larger floral prints in the middle. The white background provided enough negative space to appreciate each motif and make all the colors pop. Yes, you guessed it: I paid careful attention to fabric contrast, or the blocks would not have turned out so interesting! The instructions are a breeze to follow, so both these quilts are great for beginners.
The border has smaller flowers – it frames the quilt's center so well! Larger prints moved the focus of attention away from the blocks, so I nixed them. The motifs in each of the fabrics are a quilt designer's dream. The little flowers on the gingham add a touch of the unexpected, tie with the overall floral theme of the fabric collection, and add interest to the block.
Sky Beads and Floral Vibes were just published in Quilter's World Classic Blocks Revisited by Annie's. It is an honor to be featured next to so many gorgeous quilts! Each designer came up with fun tricks to update traditional quilt blocks, which I know you will love.
I did say I had three easy modern quilts for you today! Here is Manhattan. As it turns out, it also features a modification of the Churn Dash quilt block. This time, the twist is on the sides and center, not the corners.
Manhattan measures 52-1/2″ x 66″, and the blocks finish at 12″. The center of the blocks has only 3 colors, with their tips doing most of the color dance. I worked with the Thatched and Bella Solids collections by Moda Fabrics. If you like quilts with strong geometric lines, this is the one for you.
It is a very dark and cloudy day for me to photograph this block today, so here is the image from EQ8, the software I use to design all my quilts. The magenta and gray also remind me of stars – layers upon layers of surprise!
Manhattan takes a few more steps to complete than the blocks in Sky Beads and Floral Vibe. Still, there is nothing super complicated that a novice might flinch at. Any of these three easy modern quilts can be customized to your home decor, adapted to fit your fabric preferences, and inspire you to try your hand at modifying your go-to quilt blocks.
As for changing the colors of my designs, how about using the same color with different hues as I did in these two free quilt patterns?
You can find the pattern for Manhattan at Annie's Craft Store. While you are there, check out the Clearance tab for amazing deals (this is an affiliate link).
Have a wonderful weekend!