I blogged about my latest free applique' winter quilt pattern a few weeks ago and today I want to show you how absolutely gorgeous it can turn out! I am sure you will be inspired to get ready for Christmas right now!
Rebecca and Christy from RebsFabStash did an amazing job on this quilt. I originally designed Holiday Retreat with the Moda Fabrics' Forest Frost Glitter collection. I think it would look great with any colorway and fabric collection you chose but their selection is stunning.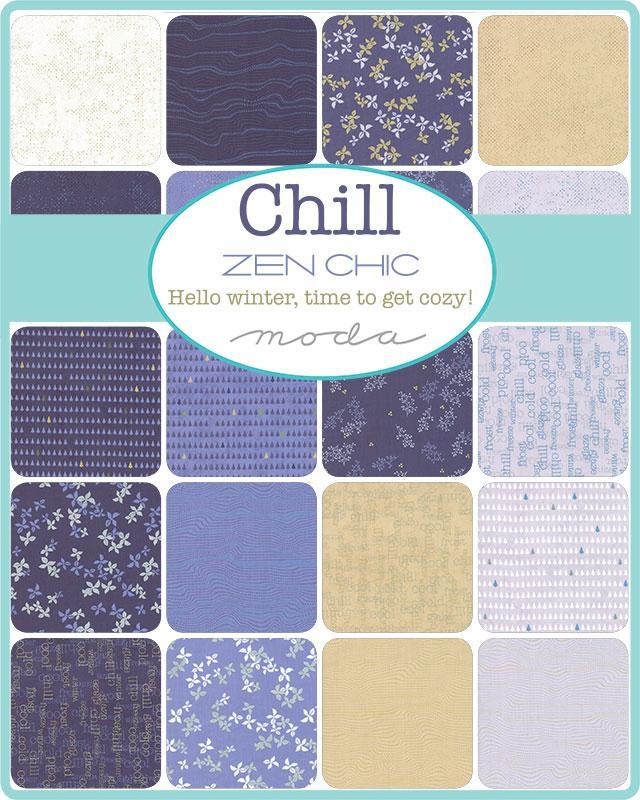 The version above was made with the Chill collection by Zen Chic for Moda. These fabrics have a cool and modern look to them, with different values and textures to make any quilt interesting.
Rebsfabstash is taking pre-orders for the kit with the Chill fabrics [this is not an affiliate link] so, if you liked their fabric choice you can make one just like theirs. Should you decide to use your own Christmas fabrics, remember:
How to choose fabric for quilts:
Decide on the colorway you like (for instance, reds greens golds for Christmas, or pastels for Easter, etc) and keep to it throughout.
Are the colors warm or cool? Keep the same 'feel' on your project. Using lime green with deep reds may not work well in the end.
Make sure the fabrics you choose also have a variety of textures: large and small scale prints, solids, stripes, etc. It will all add visual interest to the project. Of course, you if prefer a busier look, use all large prints, but I personally prefer to vary what I put on the quilt.
Make sure there is a lot of contrast among the fabrics you selected – the value of the colors is what I am referring to here: light, medium, and dark. Or, the block patterns might not be discernible.
If you like novelty quilt fabrics, use them with solids or with fabrics that 'read like solid', or have small prints that are tone-on-tone.
Back to Holiday Retreat. It measures 82″ x 94″ and the blocks finish at 12″ and 6″. The techniques include machine piecing, machine applique', and easy paper piecing. I love how the mother and daughter duo used contrasting fabrics as I did – a key for success in fabric selection.
The trees on the border are paper pieced. The super-simple tree design ensures quick block construction which, along with machine applique' help you get this beauty ready way before the Winter comes knocking on your door. The pattern has diagrams showing exactly how to make the trees, taking the guesswork out of paper piecing.
If you want to learn how to machine applique' with fusible web, this is the project for you. The shapes have easy lines to follow and the blocks are fused and appliqued very quickly. I designed this applique' winter quilt pattern with the beginner quilter in mind; thus, no intricate details to cut and stitch around.
Oh… but look closely at the photo above: they added fur to the mittens! I am totally in L O V E!!!
When I say 'beginner quilter', I mean it. The Main blocks are put together with the stitch and flip method – there is no need to cut squares into triangles and then stitch triangles to strips – where you stitch square to square, trim the seam to 1/4″, and press open. You can chain-stitch them to streamline the whole sewing process.
I hope you like this pattern as much as Rebecca, Christy, and I do! If you want more Christmas inspiration, try these two free Christmas quilt patterns to download.
Enjoy your Monday!