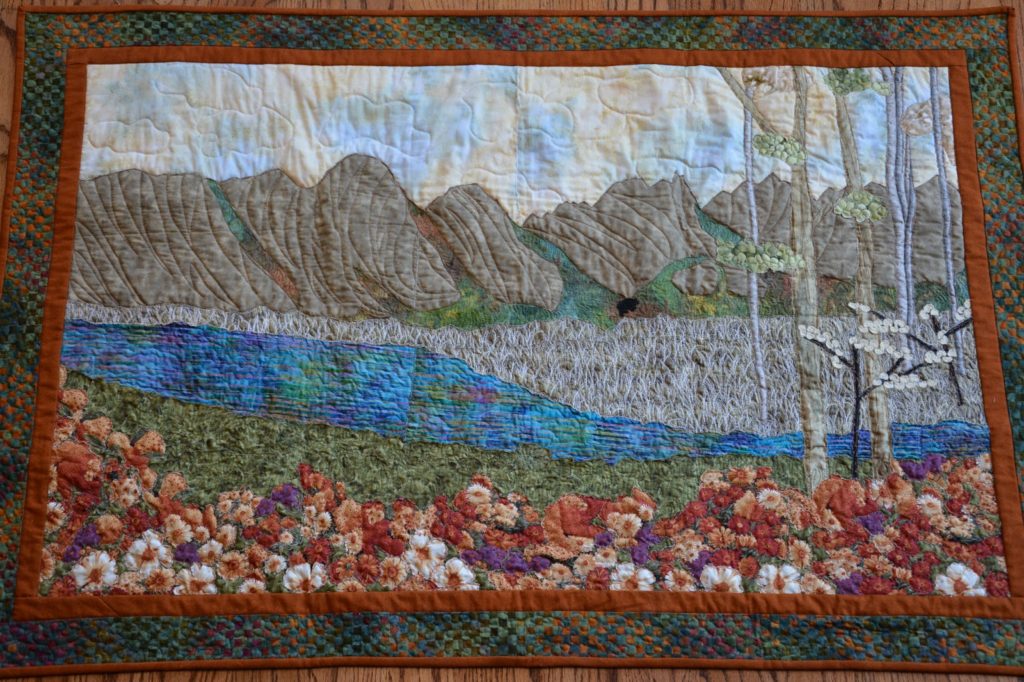 Since I came back from our trip to the East Coast I have been so aware of the stark contrast in landscape between Utah and Maryland/Delaware… As I started thinking about which landscape quilt I would make next, I brought out of the closet this quilt I made a few years ago.
The flowers were cut out, glued on with fabric glue, and sewn (broderie perse). I looked outside at the mountains and kept cutting shapes…
Up to now, when I make landscape quilts I start from a picture on my mind. Since I cannot draw, there is no draft of what the quilt will look like. This is about to change! In October I will take four days of classes on landscape quilts with Sue Gilgen at the Utah Quilt Festival.
As you look at her quilts you will see what a difference it makes when
one uses photographs as inspirations for landscape quilts. And that is
my next step!



Anyway, I am sure the process will be the same. When I start a landscape quilt, first I choose the fabrics I want to work with, then I cut the shapes I need and either glue them onto the background fabric or simply place them onto the batting. I mix batiks in with other fabrics – whatever will give the effect I am looking for (notice the pattern of the batik used for the river).
Quilting is an essential step in landscape quilts as it adds texture and other elements to the design, so I am mindful of the types and colors of threads I use.
This was my second landscape quilt… and I may 'revisit' it by adding more quilting to the sky, for instance. In the meantime, I will work with my new digital camera as I would like to use my own photographs for my upcoming landscape quilts. I have a long way to go…